FPMT

Foundation for the Preservation of the Mahayana Tradition
Het Maitreya Instituut is geaffilieerd met de Foundation for the Preservation of the Mahayana Tradition (FPMT). De FPMT is een internationale non-profitorganisatie, opgericht in 1975 door Lama Thubten Yeshe (1935-1984) en momenteel onder spirituele leiding van Lama Zopa Rinpoche. De FPMT streeft naar het voorbeeld en inspiratie van zijne heiligheid de Dalai Lama in zijn mededogende dienstverlening aan de mensheid. De FPMT richt zich op het wereldwijd doorgeven van de waarden van de boeddhistische Mahayana-traditie.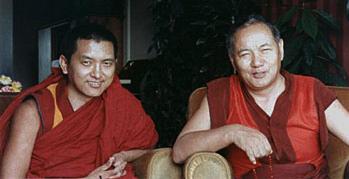 Lama Zopa Rinpoche (links) en Lama Yeshe (rechts)
Ieder voelend wezen heeft het potentieel om vrij te zijn van lijden en om grenzeloze liefde en mededogen voor anderen te ontwikkelen. Om mensen te helpen dit potentieel te realiseren werken individuen, meditatiegroepen, kloosters, retraitecentra, uitgeverijen, commerciele bedrijfjes en leden die deel van de FPMT zijn. Het doel van de FPMT is om zoveel mogelijk mensen te helpen liefdevolle vriendelijkheid en compassie te ontwikkelen met behulp van onderwijs, meditatie en sociaal-maatschappelijke projecten. Daartoe heeft de FPMT ruim 160 onderwijs- en meditatiecentra, studiegroepen en projecten in 31 landen over de hele wereld. De FPMT baseert zich op de Gelugpa-traditie van het Tibetaans boeddhisme van Lama Tsong Khapa (1357-1419).
FPMT studenten proberen anderen over de hele wereld te helpen met vriendelijkheid en wijsheid. We zijn een snelgroeiende non-profit organisatie die participeert in veel aspecten van de wereldgemeenschap.
Enkele van de FPMT projecten zijn:
Kloosters voor monniken en nonnen in 6 landen
Liberation Prison Project
Lepra klinieken
Polio klinieken
Gezondheidsklinieken en voedselvoorlichting
Meditatiecentra in 31 landen
Hulpprojecten aan stervenden
Bouw van een groot beeld van Maitreya (de toekomstige Boeddha) in Kushinagar, India
Uitgeverijen
Scholen van Essential Education
Doelstelling van de FPMT
Het Maitreya Instituut sluit zich uiteraard graag aan bij de doelstelling (mission statement) van de FPMT:
The Foundation for the Preservation of the Mahayana Tradition (FPMT) is an organization devoted to preserving and spreading Mahayana Buddhism worldwide by creating opportunities to listen, reflect, meditate, practice and actualize the unmistaken teachings of the Buddha and based on that experience spreading the Dharma to sentient beings.
We provide integrated education through which people's minds and hearts can be transformed into their highest potential for the benefit of others, inspired by an attitude of universal responsibility and service. We are committed to creating harmonious environments and helping all beings develop their full potential of infinite wisdom and compassion.
Our organization is based on the Buddhist tradition of Lama Tsong Khapa of Tibet as taught to us by our founder, Lama Thubten Yeshe and our spiritual director, Lama Thubten Zopa Rinpoche.
Wat betekent het dat we geaffilieerd zijn met de FPMT?
Dit betekent dat we de spirituele leiding van Lama Zopa Rinpoche volgen. Het betekent ook dat we de FPMT lesprogramma's en materialen volgen, die gemaakt zijn in de unieke overdracht van Lama Yeshe en Lama Zopa Rinpoche. Alle FPMT centra en projecten volgen de ethische gedragscode van de FPMT.
Het Maitreya Instituut is echter wettelijk onafhankelijk, en verantwoordelijk voor de eigen organisatie en financiën.
Zie ook de Engelstalige website van de FPMT.