Buddhism in one Page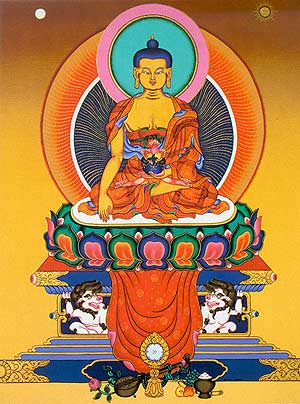 Over 2500 years ago Prince Siddhartha Gautama lived in Northern India. After a long spiritual quest, he attained full enlightenment and became a Buddha. He is also called Buddha Shakyamuni. The Buddha taught for over 40 years, but the essence of all his teachings are about the suffering and problems of sentient beings (such as humans and animals), and how to permanently overcome them.
In principle, anyone can become a Buddha by developing all the positive qualities of one's mind and by removing all the negative aspects of one's mind.
The Buddha summarized his teachings very briefly as: "Do not perform any harmful activity, accumulate wholesome activities perfectly, completely subdue your own mind, this is the teaching of the Buddha."
During his first major teaching, the Buddha explained the basic principles of his understanding with the Four Noble Truths:
life is characterized by suffering (all kinds of physical and mental discomfort)
the causes for this suffering are disturbing emotions and negative karma
it is possible to stop suffering permanently and experience lasting happiness (nirvana)
we can achieve this, by following the eightfold path (with guidelines for behavior and attitude)
The word 'suffering' in Buddhism refers not only to pain, but to all kinds of discomfort, problems and frustrations, both physical and mental. This suffering - including physical suffering - ultimately takes place in our mind, and the degree to which we suffer (or don't) is determined by how our consciousness experiences and understands life.
According to the Buddha, our disturbing emotions, such as attachment, anger and ignorance, are the main causes of all our problems. Due to our own confusion, we do all kinds of things that eventually harm ourselves and others (karma). When we can reduce these negative emotions and confusion, we also reduce our problems in the long run.
In fact, according to Buddhism, we can end our suffering completely by gradually eliminating all of our disturbing emotions and eventually attaining enlightenment. Meditation is an important tool to positively develop your mind. By controlling your own mind, you can gradually work away from false projections and bad habits; you become increasingly calm and peaceful because you understand yourself and the world around you better and react less negatively to your environment. Because of this emphasis on the functioning of our mind, Buddhism is sometimes called a kind of psychology.
In addition to meditation, our daily activities should also reflect this positive attitude. The basic stance in Buddhism is to try to make others happy, and at least not harm them. In this sense, Buddhism is called a way of life.
Initially, we want to get rid of our problems and are focused primarily on ourselves. But all other people (and animals) have similar problems and suffering. With the development of this understanding, compassion naturally develops, and you want to help others. But in order to help others well, you must not get caught up in your own problems and confusion. So it is necessary to develop your mind yourself, and especially to develop compassion and wisdom. This takes time, instruction and some practice. The Buddha represents the pinnacle of wisdom and positive qualities, so when you become a Buddha yourself, you are also the best possible helper for others. In order to become a Buddha, it is essential that we develop not only compassion, but also the wisdom that understands the true nature of ourselves and other phenomena. What in Buddhism is called 'ultimate truth' or emptiness.
A few key concepts of Buddhism at a glance:
See next: The Essence of Buddhism - by Geshe Rabten