In-Depth Meditation Training - Year 1: Foundational Insight Meditation
A unique training in (Mahayana) insight meditation
Online only, except Sept. 2: also onsite
The center will be open to follow the online class together.
Meditation is essential for personal transformation and a crucial part of Buddhist studies.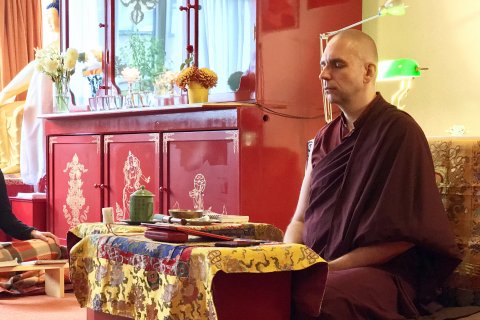 This new four-year online course provides students with long term, in-depth support in their meditative development. This weekly course will offer:
authentic traditional instructions, in contemporary language, aimed at providing a comprehensive set of meditation tools for students to transform their knowledge of the Dharma into personal experience.
traditional and modern theories on supplementary topics such as models of healthy psychological and spiritual development, ritual, narrative, ethics, and social engagement.
an international, community of meditators, online and live
Students will actively train in both shamatha and vipassana, gradually investigating the nature of self and phenomena. We will explore how we project layers (of ignorance) onto our perception and how to challenge these through reasoning and direct insight. This course is above all a practical one. It aims at helping students navigate their meditative lives successfully, both on and off the cushion.
To complement the IDMT course we will also offer:
Meditation Retreats – 4 annual retreats on vipassana, compassion, and mahamudra, offered both live at one of the centers and online.
Yogi Bootcamp - an intensive, guided 1-year meditation training with weekly personal interviews (call) for a small group of international students.
This course is a collaboration between 4 FPMT Buddhist centers: Shantideva Center New York (US), Jamyang Buddhist Centre Leeds (UK), Institut Vajrayogini in Marzens (FR) and Maitreya Instituut (NL) and therefore the course will be attended by an international group of Buddhist practitioners.
Venerable Losang Gendun
After 20 years of practicing Theravada Buddhism Ven. Gendun became a monk in the Tibetan tradition in 2006. He studied Buddhist philosophy for nine years at Nalanda Monastery and practised under various teachers from Gelug and Theravada Forest traditions. In total, Ven. Gendun spent more than four years in retreat. He has been teaching for over 15 years in the Netherlands, France, Monaco, the US, and the UK. He actively promotes interfaith practice, contributes to Emouna, an international interreligious leadership network, and is an active promotor of gender equality. His main goal is to translate traditional methods into contemporary terms to make them accessible to a Western audience.
The Buddha Project
This meditation course is part of The Buddha Project led by Ven. Losang Gendun, a branch of which is the Buddha Research Project, an on-going collaboration between Buddhist contemplatives and scientific researchers from the universities of Nîmes and Lausanne, and the Mind & Life organization (founded by neuroscientist Francesco Varela in collaboration with H.H. the Dalai Lama). It is aimed at investigating transformative processes in long-term meditators, regarding such topics as mental-health, perception, and self-transcendence. For the initial research it has been granted a European Varela Award.
Practical details
The In-Depth Meditation Training will run weekly on Saturdays from 3.30 to 6 pm and will consists of about 1-hour of guided meditation and 1,5 hours of teachings. The course offers a great opportunity for Buddhist practitioners. It will be given in English, with French translation, online via Zoom. The recordings will be made available after the sessions.
The course consists of 4 years (with 2 semesters in each year). In the first year many of the foundational topics will be introduced. You can register either for a couple of classes (to try it out) or for a whole semester. You can enter the preferred number of classes in the 'shopping basket'. The first semester runs from September until December 2023 (see below). The second semester will run from February until July 2024.
IDMT Course Overview:
Year 1 - Foundational insight meditation
Year 2 - Yogacara practice and the Jataka tales
Year 3 - Madhyamaka and Tathagatagarbha
Year 4 - Mahamudra and Kriya Tantra
To attend a basic understanding of Mahayana Buddhism is a prerequisite. The various modules can be followed separately, if you have some background knowledge regarding the preceding topics.
We will offer an onsite & online monthly practice afternoon (in Dutch) before the class starts, guided by experienced students. Focus is on discussion and meditation.
Please click here for a recently recorded Q&A session with Ven. Losang Gendun about IDMT.
Dates & times in 2023: Saturdays from September 2 - November 25 (13 classes), 3.30 - 6 pm, online only
The center will be open to follow the online class together. Please let us know if you're interested in that.
Suggested donation to help cover our costs € 15 per class. Students / people with low income €10 per class. The donation amount should never be an obstacle to your access to the Dharma! Please write us an e-mail if you'd like to donate a reduced amount.
If possible, please register well in advance. If you register on the day itself, please also send an email to amsterdam@maitreya.nl, to make sure we can send you the necessary information in time.
Photo credit: Netty Leleulya
Go back
02-09-2023 15:30
02-09-2023 18:00
Course
Amsterdam
Sign in