Ven. Amy Miller
Buddhist teacher Ven. Amy Miller is an American Tibetan Buddhist nun.
Biography
Personal insights about Ven. Amy from her students
Short video interview with Ven. Amy
1. Biography
Venerable Amy Miller is a beloved spiritual teacher and practitioner. She has dedicated her life to sharing the profound teachings of Buddhism with the world. With her gentle presence, insightful wisdom and compassionate heart, she has touched the lives of many, inspiring them to find inner peace and help transform their minds.
Since childhood she has been touched deeply by the suffering of the people she met, not understanding why they were suffering or did not have things that her family had. She began her career as a political fundraiser in Washington. During this time, she also started volunteering, worked for Mother Jones Magazine in San Francisco and during the peak of the Aids pandemic, she took up the job to be a hospice counselor.
While traveling in Nepal she stumbled on the November Course held at Kopan Monastery (close to Kathmandu). This was in the spring of 1987, it was the first time she encountered Tibetan Buddhism. Here found answers to the suffering she saw in the world and answers to a way out. This changed her life forever.
She was ordained in 2000 by the great Tibetan master, Choden Rinpoche to be Ven. Lobsang Chodren. She has spent a great deal of time engaged in meditation retreats, studying, teaching, and managed several (FPMT) Buddhist study & retreat centers throughout the world. She offers courses and retreats for example on themes of daily life like death & dying and end-of-life care, on anxiety & depression but also on profound buddhist topics like emptiness and bodhicitta. She does a lot of counseling for both dharma practitioners and whomever needs advice on life's challenges.
She has been teaching extensively since 1992. Her teaching style emphasizes a practical approach to integrating Buddhist philosophy into everyday life. She is happy to help people connect with meditation and mindfulness to gain a refreshing perspective on the often so stressful lives people have. She inspires her students to cultivate qualities such as kindness, patience, and understanding, enabling them to navigate life's challenges with resilience and clarity. Her teachings also extend to mindful activism, encouraging individuals to be agents of positive change in the world. Her students and admirers often describe her as a compassionate and inspiring presence, guiding them towards greater happiness, peace, and spiritual growth. (see below for personal insights about Ven. Amy by some of her students)
In 2004 she completed a seven-month solitary retreat at Vajrapani in the US. The years after this she organized international teaching tours for the Tibetan Buddhist master, Ven. Kirti Tsenshab Rinpoche until Rinpoche's death in 2006. This gave her amazing opportunity to be close to such an esteemed master to see him teach and act in everyday life. She also has been very fortunate to be around many great teachers in her many years of managing Buddhist centers. Amy became a touring teacher for the FPMT (the Foundation for the Preservation of the Mahayana Tradition) teaching around the world. Through her extensive travels, Venerable Amy Miller has touched the lives of people from diverse cultural backgrounds and spiritual traditions. Her message of interconnection and universal compassion transcends boundaries, fostering a sense of unity and shared humanity.
Ven. Amy has also had the good fortune to visit Tibet in 1987 and again in 2001 as a pilgrimage leader for the Institute of Noetic Science in the United States. She has also led pilgrimages to India (including Darjeeling and Sikkim), Nepal, and Bhutan for the Liberation Prison Project and Milarepa Center. She has been informally leading people to Lawudo in Nepal's Solu Khumbu District, the birthplace of Lama Zopa Rinpoche, since 1990. May this year, she has been leading another trek to the Lawudo Retreat Center.
As she has the ability to distill complex teachings into accessible wisdom, she has been asked to be the co-author of 'Buddhism in a Nutshell'. And she is also a contributor to 'Living in the Path', a series of online courses also produced by the FPMT. (more information and links to some of her teachings can be found here: www.AmyMiller.com).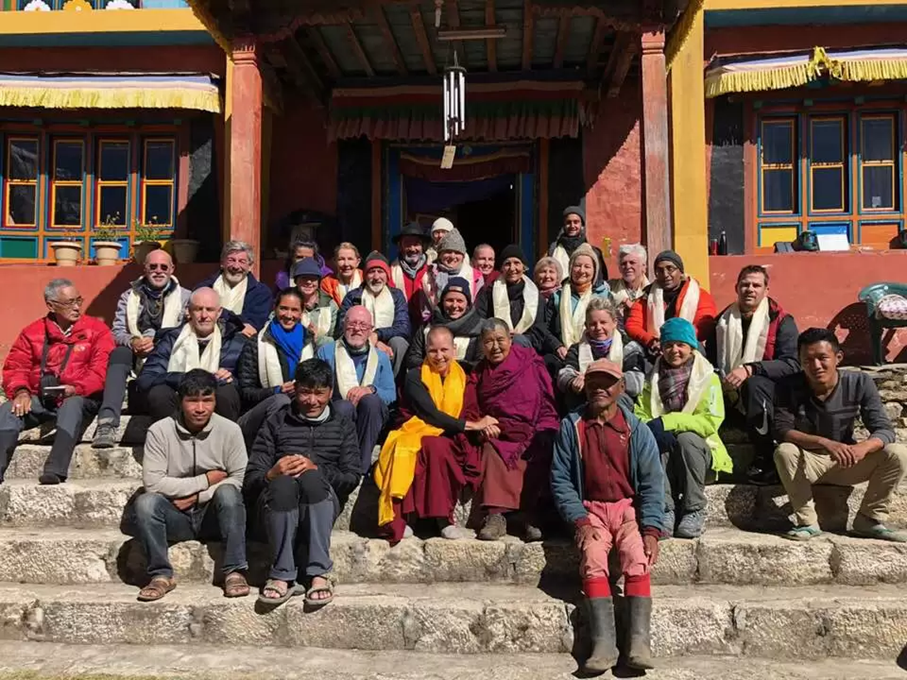 2. Personal insights about Ven. Amy from her students
"Ven Amy Miller: One of the best teachers I have ever studied with. Amy and I met at the Milarepa Center in Vermont, USA (part of FPMT) over 10 years ago when she was the Center's Director, SPC and resident teacher. She can teach beginners and I have been told 30+ year veterans of studying the Gelugpa tradition. Her connection, commitment and devotion to Lama Zopa Rinpoche was deep and 100%. She and I spend many years working together after I joined the Center's board of directors. I look forward with great anticipation and excitement for her joining us at Maitreya in Amsterdam, and will be attending many (if not all) of her teachings." - John Ganzi
"Venerable Amy has been my teacher for 10 years, and my mentor. In her teachings she often uses her own life experiences as examples of how students can apply the Buddhist teachings, its philosophy, meditation and mind training in one's everyday life experience. She teaches from a place of warmth, compassion and a deep understanding of the human condition. She isenthusiastic and excited to help you on your journey." - Patti Hansen
"Amy Miller, apart from being a wonderful person and teacher, helps me to understand the Dharma. I meet with Venerable Amy regularly online and am proud to be one of her students. Her qualities as a teacher, and as a kind intelligent person, are sublime. Ven Amy is experienced, and knowledgeable and will always present her teachings in a realistic and honest way. This is especially beneficial to a layperson such as myself. You are very fortunate to have her spend time with you in Amsterdam. I'm sure you will all feel blessed by her kindness and teachings." - Bryan Harris
3. Short video interview with Ven. Amy
Before she went on pilgrimage to Lawudo in Nepal we had the chance to interview her, below some sort videos from this interview.
If you would like to ask her your questions you can join the online Q&A on August 21 from 19.00-20.00 hours.
What are your current activities?
The value that Buddhism has brought to your life?
What do you hope to bring the students in The Netherlands?
Go back